Penanti: Pakatan to win by 7,000
Ong Kian Ming | May 30, 09 8:26am Malaysiakini
It would not be unfair to label the upcoming Penanti by-election as the most boring by-election to date since the March 2008 general election. The outcome was already decided on nomination day when Pakatan Rakyat candidate Mansor Othman was not disqualified.
With the decision by Barisan Nasional not to field a candidate for this by-election on the grounds that it was 'manufactured' by Pakatan, the challenge for the opposition coalition, from Day One, was to keep up the spirits of their election workers and to prevent the public for forgetting about this by-election.
DAP supremo Lim Kit Siang has portrayed this election as a referendum on Prime Minister Najib Abdul Razak and his leadership, specifically on the events which have occurred over the past one month including the controversial May 7 sitting of the Perak state assembly, the recent trend of police arrests and intimidation against opposition politicians and members of civil society, the unhappiness over the allocation of the JPA scholarships and most recently, the revelation by the PWC audit report of massive losses incurred as a result of the Port Klang Free Zone (PKFZ) scandal.
Whether these events would have resulted in an increased majority for Pakatan if BN had fielded a candidate is anyone's guess. My estimate is that Pakatan's majority would likely have increased, because of some of the above-mentioned factors, from the 2,219 majority it gained in the 2008 general election.
But it would not have been much more than the 3,825-vote majority obtained by Anwar Ibrahim in the Penanti polling stations during the Permatang Pauh by-election five months after the general election partly because Pakatan would have suffered some fallout as a result of the sudden Fairus' resignation.
The three independent candidates will almost certain lose their deposits. They have little political experience, support, resources or grassroots networks to help win the 12.5% of votes to retain their deposit.
One of the independent candidates, Kamarul Ramizu Idris, who also contested in the Bukit Gantang by-election, could only muster 62 votes in that considerably larger constituency.
Even Aminah Abdullah, the former Penang PKR Wanita chief, who has been making headlines of late with accusations that two Penang PKR leaders bribed her not to run, will find it hard to win more than 1,000 votes without the tacit backing of local Umno leaders. The votes that she will receive will be partly due to the sympathy factor associated with the headlines she has been making.
Expect lower voter turnout
As such, this by-election has turned into a contest of mobilising sufficient turnout and winning over some of the fence-sitters so that Pakatan can deliver a significantly larger majority.
In doing so, they can bolster the argument that public opinion and support is currently on their side, as evidenced by their fifth by-election victory in Peninsular Malaysia, which may turn into a sixth victory if Manek Urai is retained by PAS.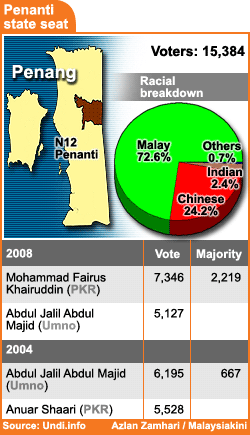 The turnout in Penanti was 82.1% in the March 2008 general election and the turnout in the Permatang Pauh by-election which was won by Anwar was 81.1%.
With BN planning to organise outstation trips for their supporters and the already known outcome, turnout will most definitely fall. Pakatan's challenge is to try to minimise the fall in turnout to show that they still have the mobilisation strength to bring out its supporters and perhaps woo some fence-sitters as well.
A turnout of 70% would be very respectable, which is similar to the turnout experienced in the Batu Talam by-election in 2007. This by-election was boycotted by PAS and PKR but featured a DAP candidate that mostly campaigned in the small pockets of Chinese areas in this heavily Malay seat in Pahang.
My estimate is that a turnout of 65% is more likely, representing a fall in turnout of slightly more than 15% compared to the March 2008 general election and the subsequent by-election in Permatang Pauh.
But of the 10,000 or so voters who are likely to show up for this by-election, an overwhelming number of them will vote for the deputy chief minister designate, Mansor.
Mansor to get 80% of votes
My estimate is that the Pakatan candidate will nett approximately 80% of the total vote or about 8,000 votes.
This is not too far fetched as Pakatan won 7,346 votes in this seat in the March 2008 general election. It only needs to ensure that its core base of supporters turns up to vote and that a sufficient number of swing voters will give their support to Pakatan.
Aminah would likely be the best performing candidate among the three independent candidates by virtue of her past political ties and recent 'infamy' and will probably nett about 1,000 votes. The rest will either spoil their votes or vote for either one of the two remaining independent candidates. This means that Pakatan will win this by-election with a majority of approximately 7,000 votes.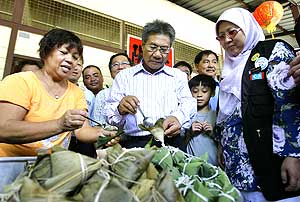 f Pakatan manages to secure this majority, which is more than three times what it achieved in the March 2008 general election, it can 'spin' the results as yet another indictment on BN, and more specifically on the leadership of Najib in his capacity as the new prime minister.
In addition, Penanti will create the effect of making Pakatan look like the more electorally dominant coalition, given the BN's lack of participation in this by-election, something which it has not done in recent memory.
While this would represent yet another moral boosting victory for Pakatan, it comes with a potential cost. If the BN contests in the Manek Urai by-election, which it is likely to, and if it loses that by-election to Pakatan, which it is also likely, this puts further political pressure on Najib to 'rein in' the opposition
The recent increase in police tactics to intimidate opposition politicians as well as members of civil society may only be the beginning of things to come. Ironically, these are the very acts which would drive more people to vote for and support the opposition.
Najib would put himself in a much better position if he could call of the police and focus on putting the country back onto the path of economic stability and growth.
===============================================================
ONG KIAN MING is a PhD candidate in Political Science at Duke University. He can be reached at im.ok.man@gmail.com.